Sampling Could Never Be Displaced; It's an Autonomous Art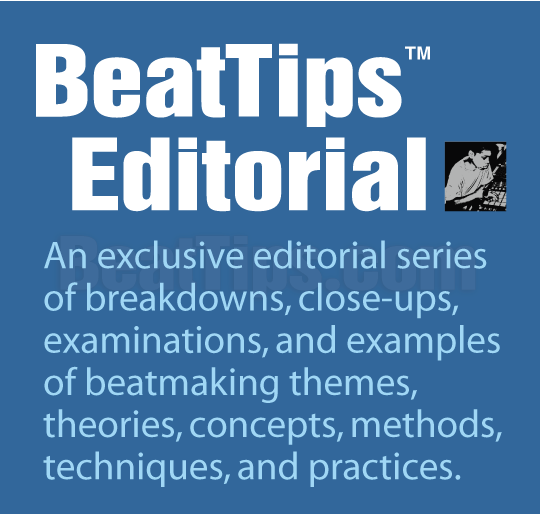 Even while sampling is currently enjoying what some would describe as a reemergence or renaissance, there are still many people within the beatmaking and hip hop/rap music communities who hold a rather hostile view to the music process that helped fuel an entire music tradition. There are a number of reasons for this disdain for sampling among some beatmakers. In my recent book, The Art of Sampling, I address them in detail. But in this editorial, I'd like to discuss one criticism and negative theme commonly lobbied against sampling: That sampling is an outdated, non-music process that was (is) doomed by evolution.
When beatmakers, of all people, criticize sampling like it's some 2-bit, non-music gimmick, they are really (knowingly or not) demonstrating a deep disrespect for what half of the essence rap music is about. Ask some slightly less hostile, passive aggressive critics about sampling, and you're likely to hear that beatmaking has simply evolved or something along those lines. The wanton disrespect for the music process that built rap irritates me, sure. But it's the "inevitable evolution" narrative that many have bought into that troubles me the most.
As a vocal performance medium, the durable nature and sheer flexibility of the rapping vocal style lends itself to a number of different audio pallets and structures. From fists banging on lunch room tables, to human beat boxes, to live bands, rapping's flexibility makes it possible for a rapper to sound decent with virtually any sound backing him or her. And when it comes to audio backing, less we forget, rapping in hip hop culture—in its earliest incarnation and core manifestation—is about the marriage of the rap vocal style with pre-recorded music. That said, I have no problem with rhymes over non-sampled-based beats, trap beats, or any other kind of beats. (Although, I tend not to dig most rap/live band contraptions; The Roots being an exception.) But over the past decade, there's been a great deal of chirping (overwhelmingly by non-sample-based beatmakers) against sampling. As the theme goes, some maintain that sampling is an old, unoriginal, crutch that was tossed on the side of the road as hip hop/rap music evolved.
But to situate the art of sampling as some sort of relic, pre-evolution music process grossly misses the point. Sample-based rap music is it's own main event; it's not a sideshow! Moreover, non-sampled-based rap music is not some natural, inevitable evolution to sampling. Nor is Non-sample-based rap music the rightful heir to sample-based rap music. Non-sample-based rap music is merely another music process, one with its own methods and metrics of quality. Furthermore, non-sample-based rap music has not displaced sample-based music as the superior compositional style in the hip hop/rap music tradition. Both compositional styles have their own tract and distinct pedigrees within beatmaking. And while today there may be more people who opt for the non-sample-based style (synthetic-sounds-based style), we must be careful not to view this as one compositional style being superior to the other. There are a number of reasons and circumstances that led and continue to lead some people away from sampling. However, it must be noted that the notion that sampling lacks feeling, or that sampling isn't synonymous—both literally and symbolically—with rap music are not among these reasons. Furthermore, no reasonable beatmaker proficient in either style disputes that sampling delivers an entirely different feel and sonic aesthetic that's hard to match without...well, sampling.
Here, I should also mention that within the "inevitable evolution" narrative, lies a "pushing the envelope" sub-theme. "Pushing the envelope" is a common phrase used in all art forms that generally means expanding the limits of a given form, style, or tradition. With regards to sampling specifically, "pushing the envelope" is used passive aggressively in rap music to mean the leaving off of sampling, or graduating from sampling and stepping up to live instrumentation. Ridiculous. The sampling tradition of hip hop/rap music is its own art form in it's own space. It is an autonomous tradition, and as such, it has its own standards, customs, and aesthetic qualities that need not adhere to any other contemporary music process. Thus, if someone from the sampling tradition of hip hop learns to play guitar or the piano, for instance, they are not graduating from sampling, they are simply adding to and improving an existing musical skill set and sensibility. Thus, the only evolution all musicians ever really experience is the acquisition of skill. But the accumulation of new music skills can not render obsolete the music processes from which they came.
---
The BeatTips Manual by Sa'id.
"The most trusted name in beatmaking and hip hop/rap music education."