BeatTips founder Sa'id (Amir Said) and Vienna's DJ Pas demonstrate what the true hallmark of a great online music community is — its ability to localize, and its potential for actually producing quality collaborative music projects
By AMIR SAID (SA'ID)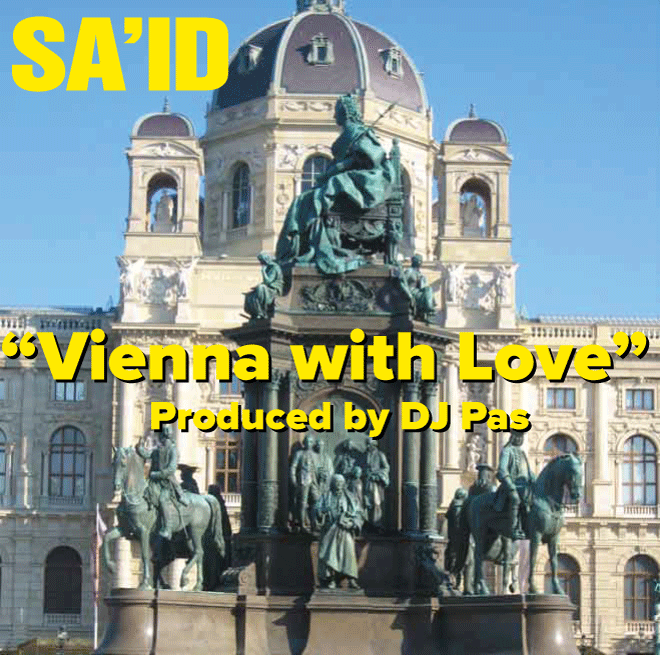 (Photo credit: Amir Said)

The BeatTips Community (TBC) has always been a place for beatmakers to seriously discuss and learn more about the art of Beatmaking. Moreover, most TBC members will tell you that, along with The BeatTips Manual, TBC is a great resource for honing your craft. But what I also hope to make TBC known for is this: a place where serious beatmakers and rappers can connect and create new projects together.

As a connection platform for beatmakers and rappers, I designed TBC to be welcoming, straightforward, helpful, and detailed. There aren't many places online where beatmakers and rappers can meet expressly for the sole purpose of meeting someone to collaborate on a project or even form a new group. As the founder of BeatTips and TBC, it was always important for me to lead by example in this regard. Which is why, as a beatmaker/rapper, I also made it clear to everyone in TBC that I was interested in collaborating with anyone in our community who made dope beats — no matter where you came from, or your age, or race and ethnicity, or gender.

One way that I looked for potential collaborators — and helped others in the community do the same — was through the monthly TBC beat battle, an online beat competition that has no equal in terms of the level and scope of constructive feedback that's provided at the end of every battle. Known to everyone in TBC as the "breakdowns," these are my detailed observations, thoughts, and individual assessments of the beats by a number of competitors in each battle (particularly the award winners and those who need help and guidance the most).

The results of each beat battle was always a big deal for the members of TBC. Seeing who won each battle, or who came in 2nd or 3rd place, or who received an Honorable Mention, was always important. But what I soon recognized (and I hoped for) was that my breakdowns had become equally important. This was encouraging, as my goal was to develop a safe space for critical feedback — "Safe," not in terms of soft or unnecessarily harsh or useless feedback, but solid information; analysis that everyone in TBC could trust and benefit from.

As The BeatTips Beat Battle grew, I wanted to make each battle more inclusive; specifically I wanted to demonstrate that "winning" the battle, as coveted a prize as that is in TBC, was not the only metric for success. I also wanted to make additional "recognition" points that addressed the level and variety of beats that TBC members were submitting to the battles. So I created a four "Special Awards." The Segundo Award for Consistency and Contribution, named after TBC member Segundo who unfortunately passed away several years ago, was an award given to the beatmaker in each battle who showed great consistency and who's beats always made for great learning. The Get Paid With Heart Award for the #1 Crossover Joint that Still Pays Homage to the Beatmaking Craft was an award given to the beatmaker who made the best beat that was perhaps more contemporary mainstream in nature yet still reverently grounded in the art of Beatmaking. The TBC Most Improved Award was an award given to the beatmaker who made the most improvement. It was always great to see someone work their way up from the "Notes" mentions (the feedback descriptions of things that needed improvement) to TBC Most Improved, or even all the way up to one of the placed positions. Finally, The DJ Pas Rhyme Award for the Beat that Made Me Write a Rhyme to It was given to the beatmaker who's beat made me literally write a rhyme to it!

The DJ Pas Rhyme Award for the Beat that Made Me Write a Rhyme to It is a particularly important award to me because while the recipient didn't necessarily win 1st place in the battle, it was my direct way of saying that their beat nevertheless inspired me to write a rhyme to it. The award was named for TBC member DJ Pas who lives in Vienna, Austria. Pas discovered TBC like most members: He got The BeatTips Manual and read my personal invitation to TBC. Not long after he joined TBC, Pas began entering the battles. I think in a two-year span, he actually won one battle — that's it. But I always looked forward to hearing Pas' beats because they usually inspired me to write rhymes to them.

Eventually, I told Pas (just as with everyone else in TBC) that if there was ever any beat or project that I think we could collaborate on, I would pursue the opportunity. This was not only for collaboration purposes, it was also my way of helping those who'd never had a placement get one. And so, when I needed to go to Europe a year ago for business and personal reasons, I scheduled some time in Vienna, Austria, and I let DJ Pas know that I would be coming. I promised Pas that I would meet with him and bring him an autographed hard copy of my book The Art of Sampling (which he requested). Further, I assured him that I would listen to his music and collaborate on a song with him if I could.

Two nights before I would eventually leave Vienna, I took the train to Karlsplatz and I met Pas right in from of the famed St. Stephen's Cathedral. We spoke for a bit, gave each other great cheer — it was the first time we'd met in person, and I gave him my book as promised and he gave me a beat tape (CD). We spoke a bit more, then I had to leave. But I agreed to come by his home studio the next night if time permitted.

The next morning, I woke up in my hotel room and saw Pas' beat tape on the table (which had become my makeshift desk while I was in Vienna). After a quick shower and some non-music related work, I listened to Pas' beat tape. It had 12 beats; there was some good beats, some decent ones, and a couple of throw-aways. But there was one beat in particular that was dope; the only issue with it was that I thought the hook and the verse parts should be reversed. The change, I figured, would sound and flow better, and allow me to get into the heart of the beat and carve out a more complete, two-verse song with two chorus passes. Nevertheless, I wrote a song to it. When I finished the song, I called Pas and gave him my word that I would come over to record the song.

Later that night around 10pm, I met up with Pas at his home studio. We spoke about the beat and the song, and I told about the arrangement change that I thought the beat would benefit from. Without any ego or fuss, Pas opened the beat — which if I recall correctly, he made using an MPC along with some software program (I don't remember which) — and he made the arrangement changes. We listened back to the beat with the arrangement changes (the original drum programming still in tact), and he agreed that it sounded better. After I wrote a few more lines that now went with the new arrangement, plus a brief mic check and an untimely spill of beer from one Pas' friends, I did my vocals, which Pas recorded. Five minutes later we had collaborated on and completed the song "Vienna with Love."

Unfortunately, Pas and I didn't get to hang out much more after that. I would be leaving for New York the following morning. But we both expressed how glad we were that we collaborated on something. Pas made a point of mentioning how grateful he was to TBC; the fact that our collaboration wouldn't have happened were it not for The BeatTips Community — TBC — wasn't lost on me either, so I was just as grateful. Finally, I thanked him for inviting me to his home and giving me the opportunity to make some music with him. Then I made my way back to my hotel room with a rough mix of "Vienna with Love," one of the most meaningful songs I've ever been a part of. And as I played the song back to myself, I couldn't help but think: TBC is in full effect.

---
The BeatTips Manual by Amir Said (Sa'id).
"The most trusted name in beatmaking."